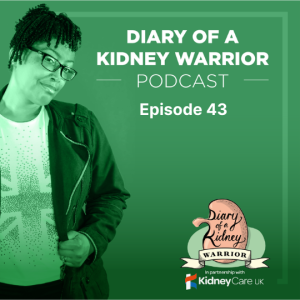 Monday Oct 04, 2021
Episode 43: Tearing Down The Walls. The Story of Dr Velma Scantlebury. America's First Female Black Transplant Surgeon.
For the month of October as part of the Black History Month celebrations, Diary of a Kidney Warrior Podcast will running a series focusing on the topics around Kidney Health & the Black Community.
In this first episode in the series, America's first African American Female Transplant Surgeon, Dr Velma Scantlebury, joins Dee Moore to share the story of her journey to becoming a Transplant Surgeon, health inequalities and more.
For updates & more, follow Dee Moore on:
Instagram: @diaryofakidneywarrior
Facebook: www.facebook.com/diaryofakidneywarrior
Twitter: @diaryofakidneyw
Youtube: https://www.youtube.com/channel/UChGUfib7lu9eKENlLJ6lafw
TikTok: @diaryofakidneywarrior
Follow Dr Scantlebury:
Instagram: @scantleburyv
Website: www.vpscantleburymd.com
Dr. Velma Scantlebury-White is a Barbadian-born American transplant surgeon. She was the first African American woman transplant surgeon of the United States. She has received many honours in her career, having been named to both the "Best Doctors in America" and "Top Doctors in America" lists multiple times.
Dr. Scantlebury has been awarded the Woman of Spirit Award for inspiring others and the "Gift of Life Award" from the National Kidney Foundation. In addition to recognition by the Caribbean American Medical and Scientific Association, she received the Order of Barbados Gold Crown of Merit, for her efforts to educate minorities about organ transplant. She has performed over 2,000 transplants and published many peer-reviewed papers and the recent author of "Beyond Every Wall – Becoming the First Black Female Transplant Surgeon."
She completed her fellowship in multi-organ transplantation at the University of Pittsburgh Medical Centre. After 15 years, she moved to  the University of South Alabama (USA) as Professor of Surgery and  Director of the USA's Gulf Coast Regional Transplant Centre . She relocated to Delaware in 2008 to join the Christiana Care Health System, as Associate Director of the Kidney Transplant Program and Director of Outpatient Services. In 2020, Dr. Scantlebury retired from ChristiansCare to pursue an academic career and is currently a Professor of Surgery at Texas Christian University and University of North Texas Health Science Centre. She also serves as the Medical Director, Black Doctors Consortium in Philadelphia, PA.
Dr. Scantlebury has been passionate about educating minority communities regarding the need for more organ donors and the rising number of patients in need of transplantation. As a board member of National MOTTEP (Minority Organ and Tissue Transplant Educational Program), she continues to promote education regarding the higher incidence of renal failure and the need for dialysis within the African American community.
She has also served on the Board of Donate Life America, the Medical Advisory Board of the Gift of Life, in Philadelphia PA., and current serves on the NKF Health Equity Task Force, as well as the ASTS Boldly Against Racism Task Force.
Dr. Scantlebury continues to mentor young students and is actively involved in her community through her volunteer work with the Wilmington Chapter of the Links, Inc, as well as an Honorary Member of Delta Sigma Theta Sorority, Incorporated.
Comments (0)
To leave or reply to comments, please download free Podbean or